Feed Your Mind: A Story of August Wilson
written by Jen Bryant
illustrated by Cannaday Chapman
Abrams Books for Young Readers, November 12, 2019
ISBN 978-1-4197-3653-7, hardcover $17.99
A celebration of August Wilson's journey from a child in Pittsburgh to one of America's greatest playwrights
"I don't write for black people or white people;
I write about the black experience in America.
And contained within that experience,
because it is a human experience,
are all the universalities."
—August Wilson
August Wilson (1945–2005) was a two-time Pulitzer Prize-winning playwright who had a particular talent for capturing the authentic, everyday voice of black Americans. As a child, he read off the soup cans and cereal boxes, and when his mother brought him to the library, his whole world opened up. After facing intense prejudice at school from both students and some teachers, August dropped out. However, he continued reading and educating himself independently. He felt that if he could read about it, then he could teach himself anything and accomplish anything. Like many of his plays, Feed Your Mind is told in two acts, revealing how Wilson grew up to be one of the most influential American playwrights. The book includes an author's note, a timeline of August Wilson's life, a list of Wilson's plays, and a bibliography.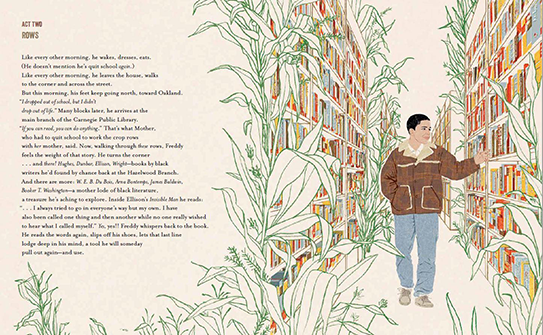 One of the many evocative illustrations Cannaday Chapman created for Feed Your Mind (illustration copyright © Cannaday Chapman, used here with permission from Abrams Books for Young Readers)
Honors and Recognition
Bank Street Best Books 2020
Bulletin of the Center for Children's Books, starred review
Center for the Study of Multicultural Children's Literature Best Books 2019
Junior Library Guild selection
National Book Festival choice for Pennsylvania (watch video)
NCTE Notable Children's Book in Language Arts 2020
Norman A. Sugarman Children's Biography Honor Award 2020
Notable Books for a Global Society 2020
Publishers Weekly, starred review
Rhode Island Children's Book Award nominee
School Library Journal, starred review
Society of Illustrators 2019 Original Art Exhibition
Resources
Read about the book's creators
Visit illustrator Cannaday Chapman's website
Follow Cannaday Chapman on Instagram
Feed Your Mind Teaching and Discussion Guide
Listen to a sample of the Feed Your Mind audiobook
Listen to Jen's audio interview on TeachingBooks.net
Read Jen's interview in the Philadelphia Inquirer
Read Jen's interview with WESA-FM 90.5 Pittsburgh
Read Jen's interview with actor Melanye Finister
See selected photos from Jen's research in Pittsburgh, PA
Read more about the August Wilson House
and the Daisy Wilson Arts Community
From PBS' American Masters,
"August Wilson: The Ground on Which I Stand":
Read about the Obamas going to an August Wilson play!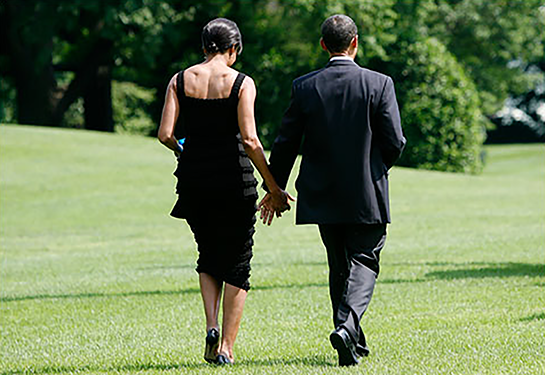 First Lady Michelle Obama and President Barack Obama (Photo credit Aude Guerrucci)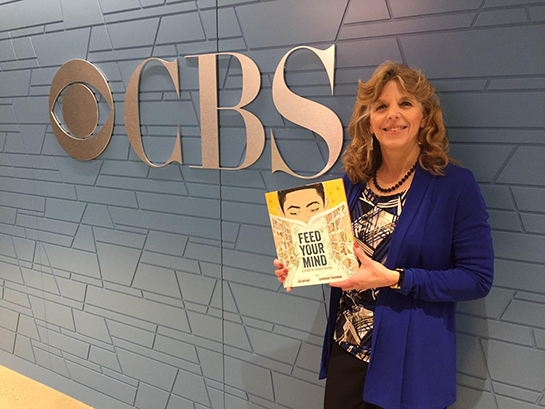 Watch Jen's 15-minute interview with DJ Sixsmith on CBS's The Sit-Down.
Reviews

Bryant's poetic descriptions effectively chronicle Wilson's artistic journey. Chapman's illustrations, created using ink, colored pencil, acrylic paint, and cut paper, bring the narrative to life. Characters feel as though they've been captured in mid-dialogue. … This empathetic and informative study of August Wilson's early years explores the complexities of the black experience in America. A book that will resonate not only with bookworms and fans of the playwright but with black children wishing to see themselves reflected in the world around them. (School Library Journal, starred review)

How does a voracious young reader turn into a high school dropout? How does a high school dropout become an accomplished poet? And how does a poet morph into Pulitzer Prize–winning playwright? In this picture-book-in-verse, Bryant portrays August Wilson's rising career as a triumph of possibility over improbability: Frederick August Kittel Jr., son of a Black mother and an absent white father, tracked down words from a young age, reading ads and library books, eavesdropping on conversations throughout his Pittsburgh neighborhoods. A Black kid with talent didn't have a fair chance in schools that didn't support that ability, but by age twenty, he had chosen his name for life, and his writing had begun to take direction—poetry inspired by fruits of his eavesdropping: "To a fatherless son, this man talk is a gift/ from the Hill's tribal elders, warriors who survive/ in this hard world/ And his job as a poet? To keep them alive." Mentoring, much encouragement, some nagging, and exposure to the visual language of Black artists such as Romare Bearden drew him to theater, where the pieces of collected words and ideas coalesced into dramatic narrative collage. Chapman's mixed-media illustrations are sophisticated and engrossing, packed with visual metaphors to engage the older crowd at whom this title is directed. When Wilson "reads with delight and with a fearsome hunger,/ like a guest at a royal feast," the solid young man is seated on an airy throne at a sturdy wooden table laid with arrangements of tiered and garnished books; when adult Wilson recalls snippets of conversation ("He leans over the blank page, listening./ Who's there?"), he's a heavy black silhouette observing faces emerging in near-translucent memory. An author's note, timeline, source notes, and bibliographies support readers' further interest, but reading aloud for pure pleasure would be a meaningful tribute to Wilson's legacy. (Bulletin of the Center for Children's Books, starred review)

Using a theatrical framework of acts and scenes, Bryant assembles resonant moments into an inspired collage of the life of playwright August Wilson (1945–2005), from childhood to maturity. Chronologically ordered single-spread scenes each focus on a specific impactful moment—winning but then being denied a new washing machine due to Wilson's "family name and address," struggles with racist classmates, reading in the library after Wilson drops out of school, choosing a pen name for himself, and shifting forms from poems to plays. Wilson's passion for words and attention to the world around him emerge in Bryant's lyrical telling: "He reads with delight and with a fearsome hunger, like a guest at a royal feast." Chapman's layered multimedia illustrations in muted primary colors adroitly combine pattern, line, and whimsy to transform telling details into revealing images. An author's note and timeline conclude. (Publishers Weekly, starred review)
Written in verse, Jen Bryant's beautiful, informative text is worth reading slowly. There is a lot to take in and think about. It is also worth lingering over Cannaday Chapman's splendid mixed-media illustrations. They are a nice combination of interior and exterior moments and get to the emotional heart of Bryant's poems. (The New York Times)
Beloved African American playwright August Wilson, known for his ten-play Pittsburgh Cycle and other dramas, is introduced to young readers in this elegant picture-book biography…. [The] power of words is central to this book: Bryant's well-researched and well-crafted text is deftly spun into two acts (childhood and adulthood) of freeform poems. Chapman's clear, intimate, mixed-media art appears throughout the thoughtfully designed pages, further drawing readers into the world of this powerhouse dramatist. (The Horn Book Magazine)
One of America's greatest modern playwrights is introduced to generations of younger readers in this lyrical picture book. August Wilson, the Pulitzer Prize-winning African American dramatist, is best known for his 10-play Century Cycle, which chronicles the African American experience through different decades in the 20th century. Because his work is targeted toward adults, many young readers might be unfamiliar with Wilson's life or achievements. Thanks to this timely and elegant picture book, that oversight is now corrected. Conceptually separated into two acts, the book frames Wilson's life as a play in free-verse form, immersing readers in the Hill District of Pittsburgh, a multiracial enclave where Frederick August Kittel Jr. is raised by his hardworking single mother. Act 1 chronicles Wilson's search for his name and voice, and Act 2 showcases his extraordinary life's work of using them to bring the African American experience to the stage. The book's primary goal may be to present Wilson's life, but it is also an eloquent love letter to literature and a celebration of its power to inspire, to instruct, and to provide hope, guidance, and direction. Bryant's accomplished free verse and newcomer Chapman's evocative, realistic illustrations operate in perfect synergy, celebrating the genius of Wilson the playwright while never losing sight of complications, hardships, and imperfections of Wilson the man. A must-have for those who want children to learn about one of the stage's greatest bards. (Picture book/biography. 6-9) (Kirkus Reviews)